Optimized Thermal Systems, Inc. (OTS) transforms the way thermal systems are designed and developed, freeing engineers to do what they do best: create and innovate.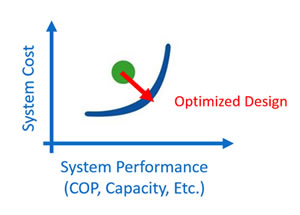 Optimized Thermal Systems was founded in 2002, with the goal to provide crucial heat transfer and system integration expertise to the industry specifically in the areas of air-conditioning, heat pumping, refrigeration and energy conversion. Having roots with faculty and research at the University of Maryland, our experienced staff, supports innovation and next generation product development through component and system testing, prototype construction and evaluation, workshop facilitation, design consulting and software service. Our goal is to be your reliable, experienced partner in heat transfer, product innovation and system integration.
In addition to our primary location in Beltsville MD, which includes an experimental testing laboratory, OTS also has satellite offices in Michigan and California. But our reach is certainly not limited to the United States. OTS has done business and distributed software licenses all around the world.
Our logo embodies our mission and vision – striving for optimized performance no matter the system or project. We strive to take the baseline design and find new solutions that not only improve performance but also reduce cost, material, and time. This results in incredible potential to advance the state-of-the art into the next generation to create efficient, inspiring product solutions for our built environment.
When choosing OTS, you get a team with a combined total of more than 130 years of experience in R&D for energy conversion and heat transfer with a focus in HVAC&R systems and components. Our in-depth knowledge can take you from concept to reality for your novel design as we leverage our software, our experimental resources, and expert staff which in turn enables your own team to focus on your core business and top priorities. Working with OTS will reduce your project costs, your time to market, and overall program risk.
OTS is committed to enabling energy efficiency and sustainable solutions. To do our part, OTS buys renewable energy certificates to offset 100% of the energy consumed by our Beltsville, Maryland office and laboratory.